Liberty Guitar recordings
The first recordings done in Liberty Tuning were released in the beginning of 2014, and are now available as CD's or digital downloads from iTunes, CD Baby, Amazon and other leading providers.
---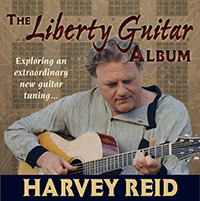 The Liberty Guitar Album has 14 solo guitar pieces in Liberty tuning, played by guitarist Harvey Reid. Originals, some traditional tunes and some well-known popular songs, all played using only the middle two fingers of the left hand. There are no published arrangements yet to teach you these, and their main purpose is to illustrate how much great-sounding music can be played in this tuning with much less difficulty than other tunings. (If you have 2 working fingers on your fretting hand, you could play music that sounds this good.)
See the rave 5-star review in Premier Guitar Magazine
Fields of Gold (Sting), The Liberty Blues (Reid), All I Have To Do Is Dream (Bryant), St. James Infirmary (Trad.), Old Joe Clark (Trad.) Tennessee Waltz (King/Stewart), Nocturne in Fm (Reid), Stephen Fostering (Trad.), Moon Shadow (Stevens), Shady Grove/Wildwood Flower (Trad.), Thinking of Jimmie (Reid), Simple Gifts (Trad.), Woodying (Trad.), Nursery Rhyming (Trad.)
Buy it from us / Buy from Amazon.com/ Buy from iTunes
---
The Liberty Guitar Method contains 14 songs played in Liberty tuning, performed and sung with just one acoustic guitar by Harvey Reid and Joyce Andersen, again using only the 2 middle fingers of the left hand. This recording is the companion to the book of the same name that shows how you can play these songs with amazingly easy 2-finger chords.
Suddenly this group of well-known songs are easy enough for beginners. These recordings are available on CD, also as downloads, and many of the tracks are embedded in the Liberty Guitar Method that is now available as a digital multi-media iBook from the iTunes bookstore.
A Hard Rain's A-Gonna Fall (Dylan), Hush Little Baby (Trad.), The Cuckoo (Trad.), This Land Is Your Land (Guthrie), Amazing Grace (Trad.), Folsom Prison Blues (Cash), Your Cheating Heart (Williams), Let It Be (Lennon/McCartney), Angel from Montgomery (Prine), Maybellene (Berry), Imagine (Lennon), The Wedding Song (Stookey), Someone Like You (Atkins/Wilson), House of the Rising Sun (Trad.)
Buy it from us / Buy from Amazon.com (Soon!)/ Buy from iTunes music store
Buy the "How To" book on Amazon/ or get the digital book for iPad