Liberty Guitar for Children
Liberty Tuning has tremendous value for teaching guitar and baritone ukulele to even very young children.
Traditionally, children have not been able to play conventional chords until the age of 12 or 13, when their hands were big and strong enough. Guitar programs for young children have had a very low success rate, and children under 12 have never really been able to become "little troubadours" who strum chords and sing songs. If you think about it, we really don't see that anywhere. And there is no other reasonable alternative with the guitar. Elementary school children playing instrumental guitar of any sort (especially sight-reading notes from books!) is essentially a path to nowhere.
Using the amazing new and simple Liberty Tuning, it's dramatically easier than ever before for kids to strum chords, and they can do it on any guitar. Children as young as 5 can play adult acoustic guitars, and they can play in keys where they can sing. The chords are easy enough for little fingers, and they sound great. Liberty chords have good voicings, with plenty of resonance and ringing bass strings. (Read about what guitars to use.)
Children no longer have to work for months or wait for years until they are able to form chords, and they can immediately focus on the vital things like singing, rhythm and performing, instead of just forming chords.
Some children have learned to play single-note melody-style guitar, and some have been able to manage the thinner strings on electric guitars, but it's the exception and not the rule. (Electric guitars are not well-suited for young children, for obvious reasons.)
The Liberty idea also works very well on baritone ukulele, and chording is even another level easier than on guitar.
Small-body acoustic guitars intended for young children have their own set of problems, and have not proven to be a solution either. The strings are hard to press down, and they have poor tone and intonation, and the guitars perform very poorly when tuned to standard pitch. If you haven't bought one for your child, don't until you hear what we have to tell you about guitars for kids!
Other simplified guitar methods that use tunings or partial capos have severe limitations. Chords have added or missing notes and don't sound right on common songs, and you can play only very limited chord changes in one key.
Read Harvey's Letter to Parents about Liberty Guitar
Using Liberty Tuning with the right type of guitar, children as young as 4 can play full-sounding, well-voiced chords on a full-scale adult guitar, and strum chords to untold numbers of great songs in the right keys for their voices. Liberty Guitar For Kids- Book 1 reveals how.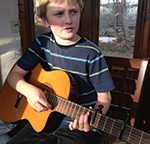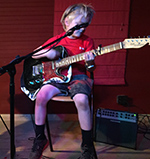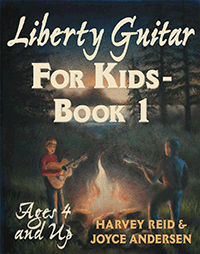 Buy it from us / Buy from Amazon.com / Buy from iTunes bookstore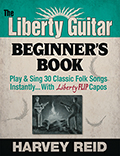 The Liberty Guitar Beginner's Book
Designed for adults or kids 8 & up, this book details how to use Liberty Tuning to play 30 classic folk songs instanty in 6 different keys. It's the best introduction to the mystery and power of this exciting new guitar idea.
Buy it from us / Buy from Amazon.com /