Books for learning about Liberty capos and Liberty Tuning Buy one from us now.
There are currently 9 books by Harvey Reid and Joyce Andersen that chart the musical terrain of Liberty Tuning and Liberty FLIP capos. They are available from us, worldwide from Amazon.com, and many are also digital books for the iPad from the iTunes bookstore. (The digital books work on iPad or Apple computers running OSX Mavericks or newer.) This information is pretty overwhelming for a video or even a smartphone, which is why we have decided to make books. There will be some teaching videos soon on our YouTube channel.
Because the digital books are multi-media and very graphics-intensive, they are not currently available as Kindle e-books.
It only takes a few seconds to put any guitar into Liberty Tuning, and almost anyone can handle the simple 2-finger chord shapes to play millions of great songs. The "world" of Liberty Tuning is both simple and confusing, and it really needs some careful explanation that these books provide.
The odd combination of a partial capo with an unusual change of the tuning creates a near-mystical new guitar "hyperspace" where music behaves differently than it usually does on the guitar. This is why Harvey Reid spent over 2 years carefully mapping out where to find the hidden music. Though a lot of music is suddenly easy to play, it is really not obvious how to find it, even if you know a lot about guitar.
The Liberty guitar books are not sight-reading or sheet music, though such things might show up in the future. What Reid calls "Liberty Guitar" is about strumming chords and singing songs: what some people call "troubadour" style or "campfire" style guitar. It's really about playing songs, not about "learning music."
---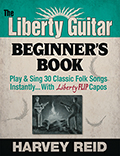 The Liberty Guitar Beginner's Book
Designed for beginners of any age, this book shows how to play the 30 classic folk songs usually used to teach beginners-- but with just the ultra-simple, great-sounding Liberty Tuning 2 finger chords. No practicing needed, no sight-reading or barre chords, no need for lessons– just put any guitar into Liberty Tuning in 10 seconds, put your fingers on the strings and you sound like you know how to play guitar. (Ads in the back of comic books have been saying for decades that you can learn guitar in 30 minutes, and it's finally true, due to this remarkable discovery.) Learn to play in 6 keys, both major and minor keys, so you'll be able to play the chords in the right key for your voice. These are the basic 2 and 3-chord songs that have been used to teach campfire guitar forever, and they are shown here in standard notation, guitar TAB and with chord charts.
As with all of Reid's books, this lovely book is brimming with careful explanations, tips, strategy and advice from one of America's finest acoustic musicians. All you need with this book is a guitar, a standard guitar capo, a Liberty FLIP Model 43 capo (or equivalent partial capo)
(86 pages/paperback.) Aunt Rhody, Hush Little Baby, Down In The Valley, London Bridge, Clementine, Rock My Soul, Skip To My Lou, Tom Dooley, She'll Be Coming 'Round the Mountain, Old Macdonald, Joshua Fit De Battle, Sinner Man, House of the Rising Sun, Happy Birthday, This Old Man, Streets Of Laredo, Red River Valley, Sloop John B, Amazing Grace, Swing Low Sweet Chariot, Angels We Have Heard On High, Deck the Halls, Auld Lang Syne, Shenandoah, Oh Susannah, Michael Row the Boat Ashore, Worried Man, Silent Night, Little Liza Jane, Billy Boy, Camptown Races
Buy it from us / Buy from Amazon.com Sorry, not yet available from iTunes bookstore
---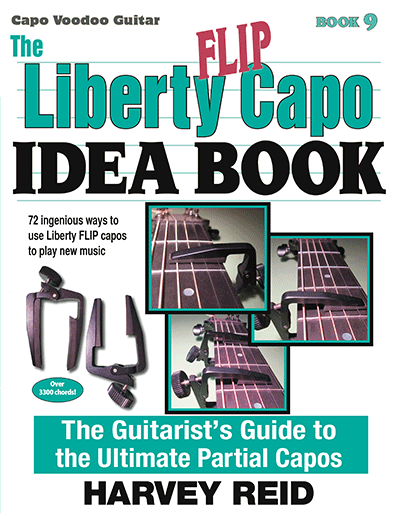 The Liberty FLIP Capo IDEA BOOKS
The Liberty FLIP capos were developed to generate the amazing new Liberty Tuning, but they are also the ultimate partial capos for players of all levels and styles. Not only are these capos ideal for beginners and even young children, but they are also the best professional capos you can buy anywhere. They are more versatile, attractive, liighter weight, less obtrusive, and more durable than any partial capos. The Model 43 clamps 4 or 3 strings, and the Model 65 can clamp just 5 or all 6 strings. With a pair of these capos, you can access 113 of the 172 ideas in Harvey Reid's epic BIG BOOK of Partial Capos, and a lifetime of new musical ideas are available to any player. The IDEA BOOKS are the complete manuals for using these revolutionary new capos. These books are designed for intermediate & advanced players, though book 1 does introduce Liberty Tuning, which is the ground-breaking beginning guitar idea that led to the development of these capos.
The IDEA books carefully show how to use one or more Liberty capos in dozens of tunings, and are filled with photos, diagrams, thousands of new chords no one has ever played before, plus tips, tricks and valuable guitar strategy from the partial capo pioneer. (Book 1 is 270 pages/paperback. Book 2 is 178 pages.)
Buy from us / Buy from Amazon.com Sorry, not available from iTunes bookstore
---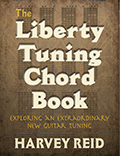 The Liberty Tuning Chord Book
If you already play guitar and are curious about Liberty tuning, this is what you need to explore it. The book presents a complete library of chords in both versions of Liberty Tuning, sorted in geometric and music order, as well as by number of fingers. This means that not only can you find all the ways to play an A or A minor chord, but you can see all the ways that dozens of simple shapes can be moved all over the guitar to make different amazing and useful chords. You could also study only the 2-finger or 3-finger chords. (For example you can play "Norwegian Wood" by the Beatles, in the original key, using just one 2-finger chord shape moved to 5 different places on the fingerboard.) Even if you don't just strum chords, the chord shapes shown here outline where the music is, and put your fingers in the right places to hear and feel the new music.
The book also has dozens of clear and helpful pages that guide you through the basic chords and song strategies. It shows how to play 1-4-5 chords in several keys, plus blues in E and A, minor-key and modal songs, 2, 6 and 7b chords, and many other important features of the tuning. (135 pages/paperback)
Buy it from us / Buy from Amazon.com/ Buy from iTunes bookstore
---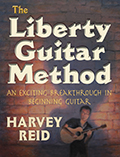 The Liberty Guitar Method Book
Intended for adult beginners, this book shows how to play 15 iconic songs with just simple 2-finger Liberty Tuning chords, and shows a general overview and introduction to Liberty Tuning. Beginners no longer have to just play nursery rhymes, and songs by writers like Bob Dylan, Chuck Berry, Hank Williams, John Prine, The Beatles, Adele and Johnny Cash are now easier than the simplest beginner songs that have always been used to get people started on guitar. The book also features careful explanations of how to use Liberty Tuning, and it is filled with photos, diagrams, tips, advice and musical strategy from one of America's most respected troubadours.
It's quite incredible how good these songs sound when played with the easy chord fingerings, and the recordings by Harvey Reid & Joyce Andersen illustrate what they sound like. (A recording of the same name is available as a CD and as a digital download from most providers.) You will need a full capo also to play some of the songs in this book in the keys Harvey & Joyce sing them in.
A Hard Rain's A-Gonna Fall (Dylan), Hush Little Baby (Trad.), The Cuckoo (Trad.), This Land Is Your Land (Guthrie), Amazing Grace (Trad.), Folsom Prison Blues (Cash), Your Cheating Heart (Williams), Let It Be (Lennon/McCartney), Angel from Montgomery (Prine), Maybellene (Berry), Imagine (Lennon), The Wedding Song (Stookey), Someone Like You (Atkins/Wilson), House of the Rising Sun (Trad.) (58 pages/paperback)
Buy it from us / Buy from Amazon.com / Buy from iTunes bookstore
---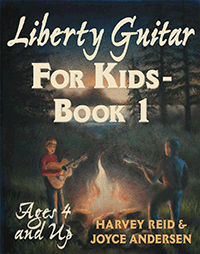 Liberty Guitar For Kids- Book 1 (Ages 4 & Up)
Not only can adult beginners or people with less than 4 working fingers play great-sounding guitar chords, so can kids. This book starts from scratch, and shows how children as young as 4 can strum full chords on an adult guitar, and accompany themselves for singing in keys that are right for their voices. (This has never been possible before.) It's easier than ukulele, and sounds a lot better.
There is no need to waste money on children's guitars, or to wait years until little hands grow big and strong before they can play chords. This revolutionary new approach is probably the most important development ever in children's guitar. If you have young children or work with them, you and the kids can learn to play together.
Words, notes, TAB, chords are shown for all 17 two and three-chord songs, played with just a single 2-finger chord shape! With lots of tips and advice for beginners and kids. You will need a full capo also to play the songs in this book in the keys they are played in, which are the best for little voices and hands.
Row Row Row Your Boat, The Itsy Bitsy Spider, Wheels on the Bus, London Bridge, Farmer in the Dell, Hush Little Baby, Ten Little Indians, Hey Loddy Loddy, Down in the Valley, Skip to My Lou, Rock My Soul, Old Macdonald, This Old Man, Amazing Grace, Comin' Round the Mountain, Oh Susannah, Swing Low Sweet Chariot.
Buy it from us /Buy from Amazon.com / Buy from iTunes bookstore
---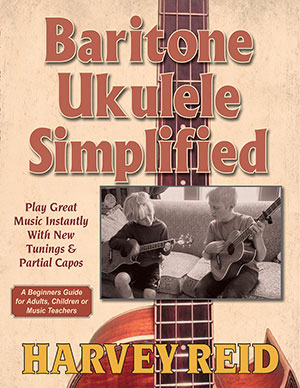 Baritone Ukulele Simplified
Liberty Tuning is a new and clever way to simplify chording on the guitar, but it also works beautifully on the baritone ukulele. In this book guitar legend Harvey Reid carefully takes you through 9 new tunings of the baritone uke, and maps out how to play all the basic chord changes in all the workable keys for beginners.
In standard tuning [D G B E] it still takes quite a bit of dexterity to play a simple 3-chord song. This book unveils the closest thing ever to "instant music," and you can learn how very young children or adults of any age can learn to play 1 and 2-finger chord shapes, strum away and start singing millions of songs instantly. Some of the revolutionary new ideas included here are alternate tunings, some are partial capo ideas, and the most exciting ones are the "hypertunings" that combine the 2 ideas. If you've always wanted to sit down and strum some chords and sing songs with no practicing, music talent or lessons needed, just get a baritone uke, this book, and a Liberty Model 43 capo.
Buy it from us / Buy from Amazon.com
---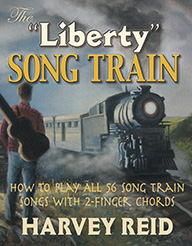 The "Liberty" Song Train
In 2007, Harvey Reid and Joyce Andersen released an epic, critically-acclaimed 4-CD boxed set recording with an 80-page hardback book, titled The Song Train. The 56 songs in it cover a huge musical territory, from rock to folk, bluegrass, country, gospel, blues and more, and they all have 2 chords or less.
This book shows how to play all of them in Liberty Tuning using only 2-finger chords. The Song Train gave beginners an incredible repertoire of good but easy-to-play songs. Many people still had trouble playing songs in it because they couldn't master the basic guitar chords. This new book makes everything another level easier, since it is 2-chord songs played with just 2 fingers. It's the most accessible beginner guitar experience to be found; the songs are a compelling body of good music, and they sound great with the Liberty Tuning chords. There has never been a way to play this much great music with such simple motor skills. 2-chord songs with 2-finger chords can get anybody going.
The Song Train is still in print, and if you don't have a copy of your own, the tracks of the recordings are available digitally on iTunes and other digital download services, ad the hardcover book is recently available on Amazon.com. (The 80-page book is not currently available digitally.) So you can hear what these "easy-but-great" songs sound like when played by Reid & Andersen, with just 2 basic chords on an acoustic guitar. (124 pages/paperback) There is not a new recording of the songs with the Liberty chords. Roving Gambler (Trad.), Handsome Molly (Trad.), Oh Death (Trad.), Kentucky (Kurt Davis), Rock Island Line (Huddie Ledbetter/John Lomax), You Never CanTell (Chuck Berry), Tijuana (J. J. Cale), My Old Home on the Green Mountain Side (Norman Blake), Defying Gravity (Jesse Winchester), Clyde (J. J. Cale), John Henry (Trad.), Old Blue (Trad.), When Your Troubles Are Like Mine (Trad.), Jambalaya (Hank Williams), Feelin' Alright (Dave Mason), Jack O' Diamonds Blues (Trad.), Pistol Packing Mama (Al Dexter), Waltz Across Texas (Q.Tubb), Little Maggie (Trad.), Bound for the Promised Land (Trad.), Ode to the E Chord (Harvey Reid), Tulsa Time (Danny Flowers), Honky Tonkin' (Hank Williams), My Horses Ain't Hungry (Trad.), Memphis (Chuck Berry), Changed the Locks (Lucinda Williams), Sinner Man (Trad.), I Love You A Thousand Ways (Lefty Frizzell), Moonshiner's Blues (Harvey Reid), Tombstone Blues (Bob Dylan), Baby Please Don't Go (Big Joe Williams), Miner's Refrain (Gillian Welch/David Rawlings), Buffalo Skinners (Trad.), Simple Gifts (Trad.), ShakeYour Hips (Slim Harpo), Tonight the Bottle Let Me Down (Merle Haggard), The Cuckoo (Trad.), Rye Whiskey (Trad.), I'll Go Stepping Too (Jerry Organ/Tom James), Willie Seton (Tom Paxton), Joshua Fit the Battle (Trad.), Tom Dooley (Trad./ arr Proffitt/Lomax/Warner), Black Jack Davy (Trad.), Far End of Summer (David Francey), Bright Morning Stars (Trad.), Willie Moore (Trad.), Well Well Well (Bob Dylan/Danny O'Keefe), Ramblin' Man (Hank Williams), Pastures of Plenty (Woody Guthrie), Wild Bill Jones (Trad.), Single Girl, Married Girl (Trad.) 108, A-11 (Hank Cochran), Old Man at the Mill (Trad.), The Hills of Roane County (Trad.), Little Birdie (Trad.), Where the Soul Never Dies (Trad.)
Buy it from us / Buy from Amazon.com / Buy from iTunes bookstore (Now available!)
---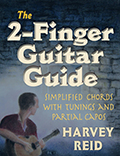 The 2-Finger Guitar Guide
Liberty Tuning has shown us that it is possible to play an incredible amount of good music with just 2 fingers of the fretting hand. Now that 2-finger guitar has been shown to be a worthwhile musical endeavor, this book carefully examines 30 other tunings, partial capo configurations and combinations of the two– to compare their various advantages, disadvantages and possibilities. Once you see what Liberty Tuning allows, you might wonder what kinds of simplified guitar ideas have been hiding in other tunings, and this book takes you through a lot of them, to save you the wondering, and to show what they can do. It introduces the 2-finger chords in both versions of Liberty Tuning.
If you have less than 4 working fingers on your fretting hand, or if you work with people who do, then this is a vital new reference book, and the only one of its kind. (154 pages/paperback)
Buy it from us / Buy from Amazon.com